Saturday, November 21, 2015
25 Healthy Breakfast Recipes
A healthy day should always include a good-for-you breakfast. It boosts metabolism, fuels you through the morning, and inspires an all-around healthy lifestyle. This year we cooked up a lot of healthy breakfast recipes — both sweet and savory for long brunches and those times we found ourselves rushing out the door. Take a look at some of our favorites that will keep you full well beyond the New Year.
Bulk up your breakfast with some ancient grain power in this spinach quinoa scramble.
It looks gourmand but only takes 10 minutes to cook and offers up almost 20 grams of protein.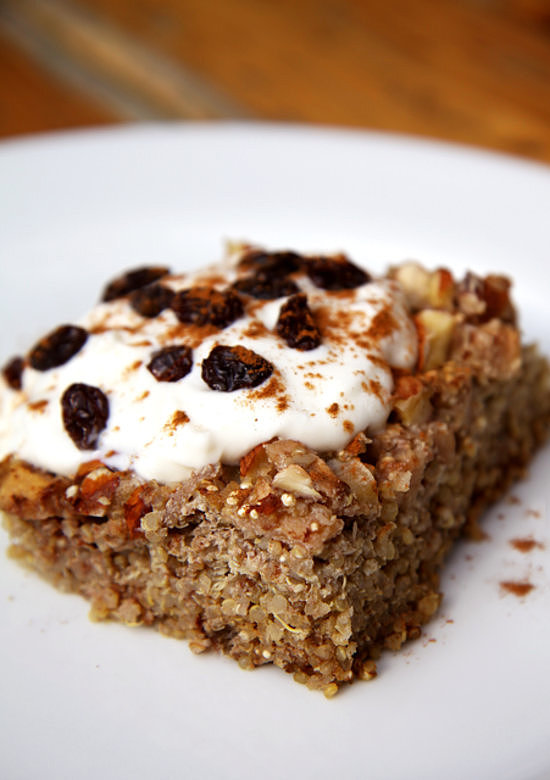 Whip up a gluten-free quinoa bake featuring soft, cinnamon-spiced apples; plump raisins; and crunchy almonds. Bake a batch ahead of time, so you can enjoy this healthy breakfast all week long.




Yogurt-Filled Cantaloupe
Greek yogurt is one of the best ways to enjoy plenty of protein without any eggs or meat. Instead of topping off your morning bowl of yogurt with sugary granola, serve it up in a fresh cantaloupe bowl that kicks out carbs. Be sure to add your favorite fresh berries to the mix for extra color and flavor.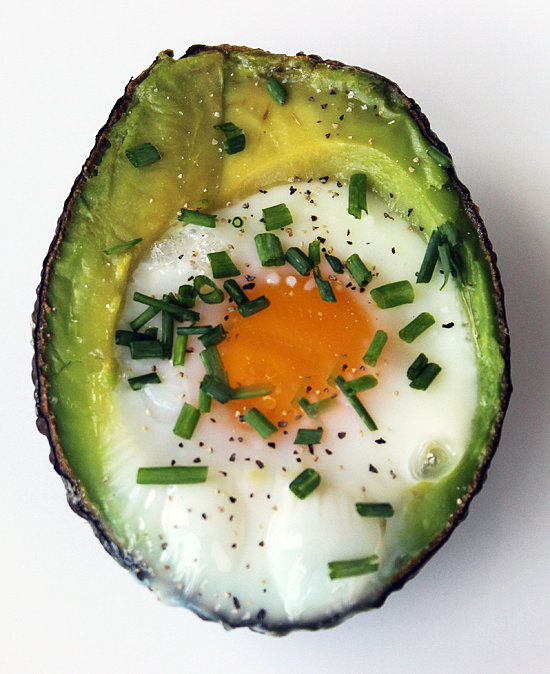 For a one-two punch of omega-3s in your breakfast, try baking an egg in an avocado.
Beyond the heart-healthy fatty acids and high protein count, this low-sugar, fiber-filled breakfast will kick off your day on a healthy high note.
Even if you're eliminating gluten, you can enjoy a stack of hotcakes! These wheat-free pancakesuse almond meal and flaxseed instead. They're high in fiber and protein with nearly no sugar whatsoever.




Starbucks Spinach Feta Wrap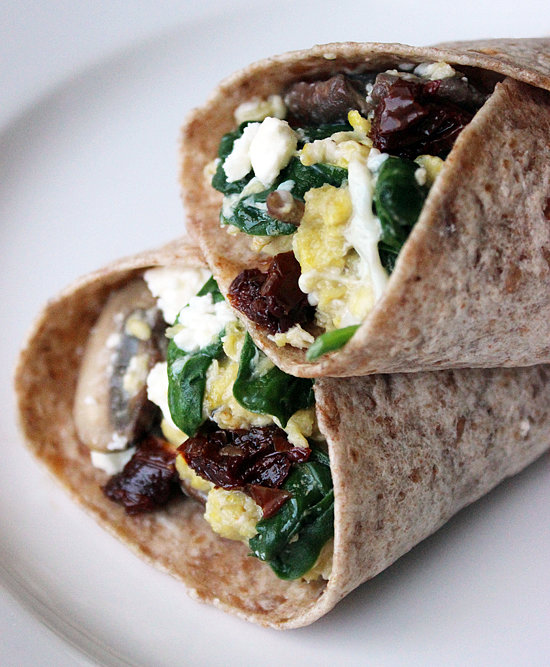 It can be hard to give up your Starbucks spinach-feta wrap — we understand this pain. However, this homemade breakfast wrap is lower in calories and carbs and free of preservatives. Cook up a batch of these wraps ahead of time, freeze, and reheat when you're ready for breakfast.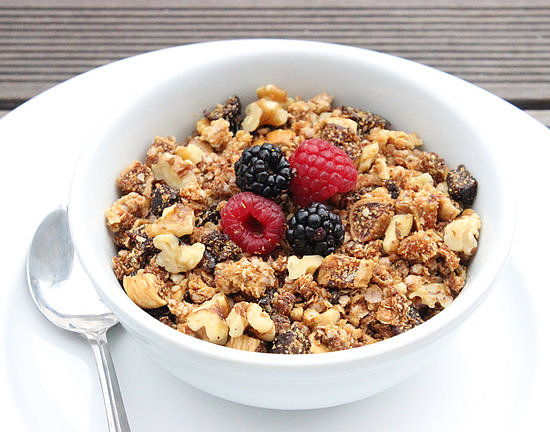 High in iron and completely free of cholesterol, Gwyneth's gluten-free granola is sweet and nutty with the perfect crunch, everything you're craving in a bowl of traditional granola. It's made with quinoa flakes and just the right touch of dried fruits.




Scrambled egg, a sprinkle of diced bacon, and a drop of ghee (clarified butter) all bake right into a tiny tomato ramekin for a savory Paleo breakfast treat with just the right hint of sweetness. With more than 10 grams of protein, this tomato frittata is the perfect way to fuel your body after a tough morning workout
A fast bowl of breakfast polenta is easy to make and provides you with the protein, carbs, and comfort you need after a dark morning workout. It's a great vegetarian option for runners who need a quick recovery meal; it's ready in about 10 minutes!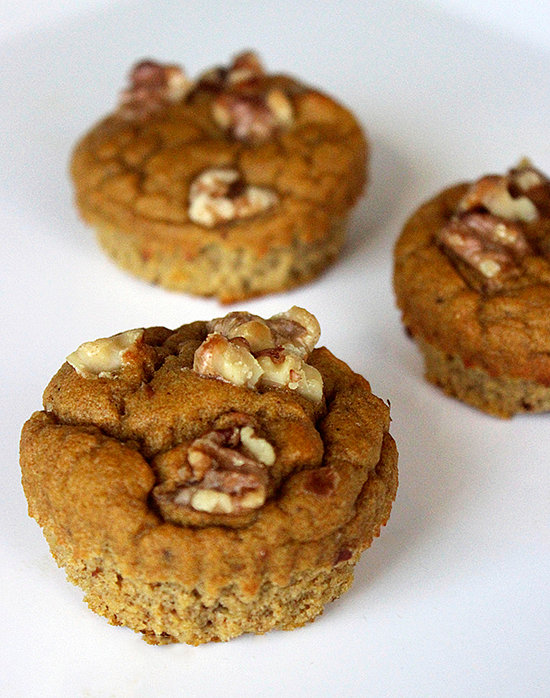 These light and fluffy pumpkin pie muffins can serve as a tasty breakfast to fuel your day, but they're sweet enough to feel like a treat. One of these muffins is less than 140 calories, so grab two for a quick breakfast that will keep you satisfied throughout the morning.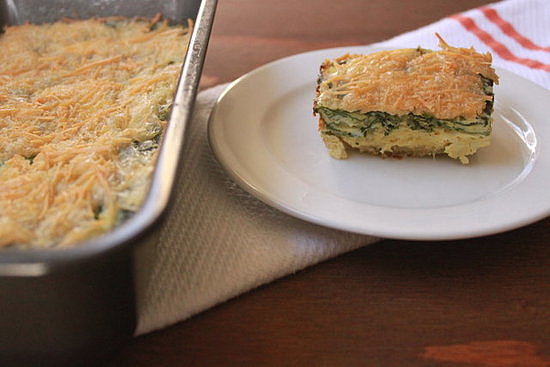 Bake up this quinoa egg casserole on Sunday night, and cut a slice the following morning for a gluten-free breakfast. In addition to plenty of protein and fiber, you'll up your iron and calcium intake while enjoying this recipe.
Southwestern Tofu Scramble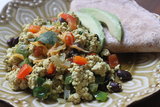 Try a riff on classic scrambled eggs with this hearty Southwestern tofu scramble. Its lovely yellow hue comes from the anti-inflammatory wonder-spice turmeric.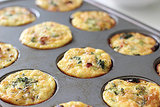 At 150 calories and 12 grams of protein, these gluten-free turkey sausage muffins are smarter than any fast-food egg option you'll find before work. This is another recipe that's easy to bake ahead of time and grab when you head out the door.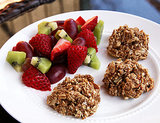 Save money by baking up a batch of energy bars to start off your morning. These low-sugar oatmeal banana bites are a great way to fuel the morning! If banana isn't your thing, then try one of these other healthy energy bar recipes.
Pop in a batch of these protein-heavy eggs in ham shells when you wake up, and enjoy a hot, hearty, and quick breakfast before you leave for work. They're tasty during the workweek but special enough to serve at a healthy weekend brunch where you'd like a low-carb option available.
Asparagus and Salmon Bundles
When you need a light and satisfying breakfast with a sophisticated edge, wrap up a few asparagus and salmon bundles. Don't let looks fool you — these are beyond simple to make. This omega-3-rich recipe can be cooked the night before and refrigerated until you're ready to enjoy them the next morning.
Skip the empty calories from store-bought and coffee-shop muffins, and make your own instead. When done right, a muffin can actually be a filling and nutritious breakfast.
This recipe for banana smoothie muffins is filled with a healthy secret ingredient you won't even taste — spinach!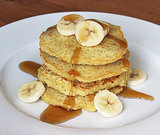 If you're not sure what to do with leftover quinoa, then whip up a batch of fluffy quinoa pancakesfor breakfast. This creative twist on the classic offers more folate, protein, and fiber than traditional recipes.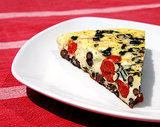 Lots of veggies and a good dose of protein, all in one easy recipe — it's all there in this no-bake veggie frittata.
Made with sweet cherry tomatoes, cubes of mozzarella cheese, black beans, and purple basil, this high-protein dish is bursting with savory flavor.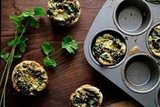 What happens when you cross a frittata with a quiche? A gluten-free love child!
These delicious little muffins will replace your portable hard-boiled eggs and have a jalapeño kick that will get your metabolism going. Make them early in the week to grab on the go.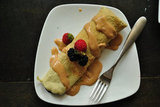 Fret not, the gluten intolerant — these crepes are grain free! Made with three eggs and two egg whites, it's no wonder that these gluten-free breakfast crepes are high in protein. Perfect for a lazy Sunday or healthy start to your work day.
Waffles topped with a little bit of pure maple syrup are a favorite brunch indulgence. This recipe for cinnamon oatmeal waffles gets a healthy makeover with the addition of whole grains, fruit, yogurt, and flaxmeal. Not only are they tasty, but they're incredibly filling too.
Gluten-Free Apple Cider Donuts
These gluten-free apple cider donuts get their sweetness from rich molasses and cinnamon. One bite and you'll skip the deep-fried doughnuts from here on out.
Whole Wheat Mixed Berry Pancakes
Save calories by topping these mixed berry pancakes with maple cinnamon Greek yogurt instead. Yum!




If you like things creamy, you'll love this recipe for vegan buckwheat porridge. And unlike a lot of hot-cereal options, this porridge is gluten-free!

Source: FitSugar.com